John Herron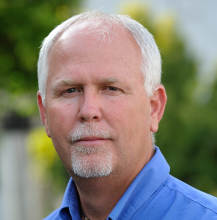 Northern California Area Manager
John Herron is Area Manager for Veolia Water's Northern California projects. As area manager he is responsible for overseeing project management and client relations.Before becoming an area manager, Herron managed capital projects for the company's Northern California region.He brings a wealth of understanding from both municipal government and public utility experience.From 2005-2009, he served the City of Hood River, Oregon as a Planning Commissioner and elected Councilman.
He brings more than 15 years of project management experience of public water/wastewater facilities projects, various environment-related projects and private industry projects. As a licensed contractor, he knows and understands that time, money and competent resources are essential ingredients for efficient and effective operations and sustained client/consultant relationships.
Prior to joining Veolia Water in 2006, Herron was responsible for managing a group of engineers, scientists, technical and administrative staff as oversight for the US Army's $460M Chemical Weapons Incineration Program in Oregon and Arkansas.
Aaron Winer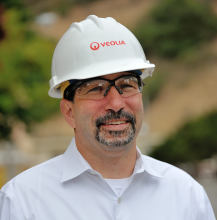 Project Manager
Aaron Winer serves as the head of Veolia's Richmond facility, with responsibility for coordinating with the City of Richmond staff and management, Veolia's Capital Projects Management group and other stakeholders on the design and construction of new facilities, as well as capital improvements. In addition, he oversees facility operations and maintenance, as well as special projects, and coordinates the activities of consultants and contractors to ensure the plant operates without interruption during maintenance activities and facility upgrades.
Winer has more than 15 years of wastewater operations and startup experience and is a California Grade V wastewater treatment plant operator, reflecting extensive knowledge and experience with wastewater processes. He has been with Veolia or at a Veolia predecessor since August of 1995 (with a six-year stint in the public sector in between) and has served as Assistant and Interim Plant Manager at the Richmond wastewater treatment facility during that time.
Prior to joining Veolia, Aaron worked for the cities of Yuba City and Davis as a senior plant operator for municipal wastewater treatment facilities and he has also served as Environmental Compliance Manager for US Filter in Burlingame.
He holds a Bachelor of Arts degree in Environmental Studies, a professional certification in Environmental Safety & Health Management from the University of California at Santa Cruz Extension and a Master of Public Administration from USC. Aaron holds CWEA certifications as an Environmental Compliance Inspector, Industrial Waste Treatment Plant Operator and Laboratory Technician. He is a member of the California Water Environment Association and former Secretary for the Bay Area Hazardous Waste Reduction Committee. Aaron and his family live in Stockton.
Russel Clifton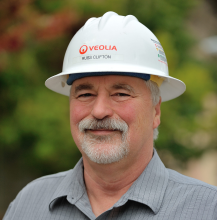 Assistant Project Manager
Russ Clifton brings more than 30 years of water and wastewater operations experience to Veolia's Richmond project, specializing in municipal public works maintenance and operations. As Assistant Project Manager, he manages plant operations and laboratory services, and he supervises the personnel in each of these areas. On a day-to-day basis, Russ focuses on ensuring that the wastewater treatment processes and lab testing are performed in compliance with all operational and regulatory guidelines.
Prior to joining Veolia, Russ was maintenance manager and process water recycling manager for Boral Stone Products, where he managed more than 50 mechanics for the process water treatment system at the manufacturing location. He also spent more than 25 years in municipal wastewater treatment operations roles, including Public Works Superintendent for the City of Bencia and Operations Supervisor for the Union Sanitary District.
Russ holds a Grade 4 wastewater treatment plant operator's license as well as a Grade 3 water distribution system operator license from the State of California.
Jamal Muhammad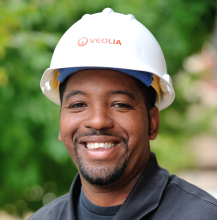 Community Outreach Coordinator
As Community Outreach Coordinator for Veolia's Richmond facility, Jamal Muhammad is the company's most familiar face in the field.He works in the community on a daily basis meeting with residents and business owners as part of the company's commitment to creating two-way dialogue with the people Veolia serves.A native and long-time resident of Richmond, Jamal has spent the last four years working with area nonprofits, including those organizations serving Richmond's Iron Triangle area.
Jamal has worked for more than 15 years in youth development, serving as a counselor and eventually a facility manager at Ansari House, a residential treatment facility in Richmond.In addition, he was a recruiter and organizer at The Western Addition Beacon Center's pilot after-school program, and a case manager at the Shih Yu-Lang Central YMCA in the Tenderloin neighborhood in San Francisco where he developed case plans and managed client files.He also facilitated the Non-Violent Family Skills curriculum for San Francisco's Youth Guidance Center and Cultural Identity groups for boys at Kipp-Bayview, Excelsior and Francisco Middle Schools.
In 2010, Jamal was selected to serve as a TOLA Fellow. TOLA Fellows receive intense hands-on training in community and political organization through experiential learning in the field, including a four-month project.A resident of Richmond, Jamal is a graduate of John F. Kennedy High School and attended Laney College in Oakland.
Martha Mosley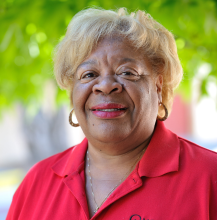 Receptionist
When you call or visit Veolia's Richmond facility, Martha Mosley is often the first person to greet you. As Veolia's receptionist for the Richmond facility, Martha fields customer service calls and greets visitors to the facility. In addition, she is responsible for the day-to-day administrative duties that keep the office running smoothly. She has been with Veolia since 2008 and has been a resident of Richmond for nearly 30 years.